The Happi Pappi® Beignets Story
If you've never had an authentic traditional beignet, it is a dessert pastry originally created in France and made famous in the U.S. in New Orleans' French Quarter….and our Happi Pappi® Beignets are a sweet delicious treat you'll never forget.
The traditional beignet is a square piece of dough, cooked fresh, and covered with powdered sugar and are served in orders of three. We serve ours in orders of three, five, or dozen.
Beignets are commonly known as breakfast or a treat, served with powdered sugar on top. They are traditionally prepared right before consumption to be eaten fresh and hot.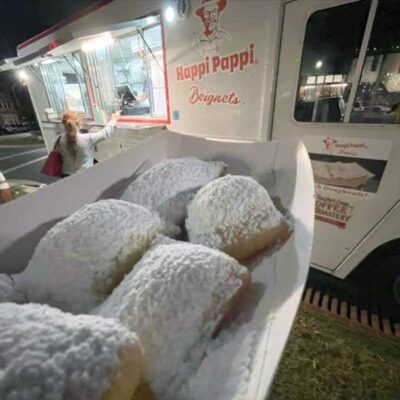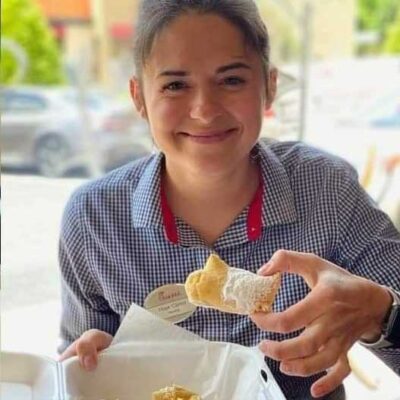 How did Happi Pappi® Beignets get started?
After working in the food truck industry on the business side for several years and participating at different festivals and events around the area, the owner of Happi Pappi® realized that there was something missing that could enhance those venues. There were no premium desserts offered. So he came up with the concept of a Beignet Food Truck that would offer Beignets as a breakfast, dessert, or complementary food item as well as Specialty Coffees to enhance the Beignets. In consultation with a local French Culinary Chef (Huntsville, AL), a recipe was created that is tailored for food truck operation.
Happi Pappi® Beignets strives to bring true, authentic, and delicious Beignets to the North Alabama and surrounding areas. Our Beignet mix is our own custom recipe crafted by a local French Culinary Chef, and each batch is made on site and served fresh and hot. We take the traditional Beignets and add a contemporary flair to it to include an array of powdered sugar flavors (Regular, Cinnamon, Chocolate, and Lemon).
Our Coffee
The taste for coffee with chicory was developed by the French during the reign of Napoleon in the early 19th century. Chicory was added as a filler when coffee became scarce. Chicory is the roasted root of the endive plant. It gives a distinctive flavor to Coffee and Café  Au Lait, which is mixed, about half and half, with hot milk.
At Happi Pappi® we take a high grade of coffee and add chicory to it to enhance an already excellent coffee. Therefore, you taste a Premium grade of coffee with a hint of chicory to give its Signature Taste. We serve the traditional Café Au Lait as well as a contemporary line of Café Au Laits that include Vanilla and Caramel Flavors. We also serve a Vegan Café Au Lait that includes warm Oat Milk. You can also get our line of Coffees Iced.
Our Hot Chocolate
Our Hot Chocolate is a proprietary Blend of ingredients to form our Signature Hot Chocolate. Our Hot Chocolate can be enhanced by adding marshmallows and/or whipped cream. You can also get our Hot Chocolate Vegan Style (warm Oat Milk).